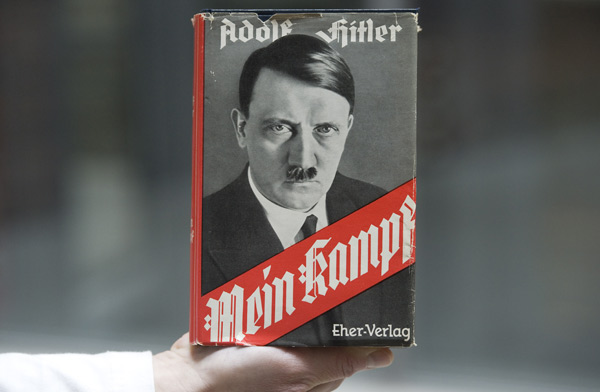 A zionist MP is to ask the government to consider banning Adolf Hitler's Mein Kampf amid fears that it is "inspiring a new generation of anti-semitism in the UK and abroad".
Thomas Docherty, MP for Dunfermline and West Fife, has written to Tory Culture Secretary Sajid Javed asking for a consultation on allowing the sale of Hitler's book, which contained his political philosophy "based on a rampant hatred of the Jews".
Mein Kampf has been translated into English and is easily obtained from Amazon, Waterstones and other booksellers.
In his letter Docherty "expresses his surprise" that Mein Kampf is in the Amazon bestseller lists and is the top selling book in the history of fascism section.
"Of course Amazon – and indeed any other bookseller – is doing nothing wrong in selling the book. However I think that there is compelling case for a national debate on whether there should be limits on the freedom of expression," he writes.
He realises there are many who would argue that "the publication of books as repulsive as Mein Kampf is the price of living in a democracy".
He adds: "There is in addition an argument that by allowing academic study of books such as this, we ensure that our society understands better the causes of fascism and the origins of Nazism."
But alluding to the way the authorities tackle hate literature posted on the web, closing down sites, he raised concerns that Hitler's book is still inciting "racial hatred and fuelling anti-Semitism" and is "too offensive to be made available".
"This is particularly an issue given the widely reported rise in anti-semitism not just in the UK but in other western European countries," he writes.
"I am aware that in a number of other countries, such as Germany and Russia, legislation has been passed that prohibits the sale of the book.
"I fully understand that there are likely to be strong views on both sides of the argument and I believe that such a debate would need to be handled in a sensitive manner. I believe that your department [Culture, Media and Sport] is best placed to lead that debate – perhaps through a consultation.
Popular products:
Recent news: