Alternative flash content
Requirements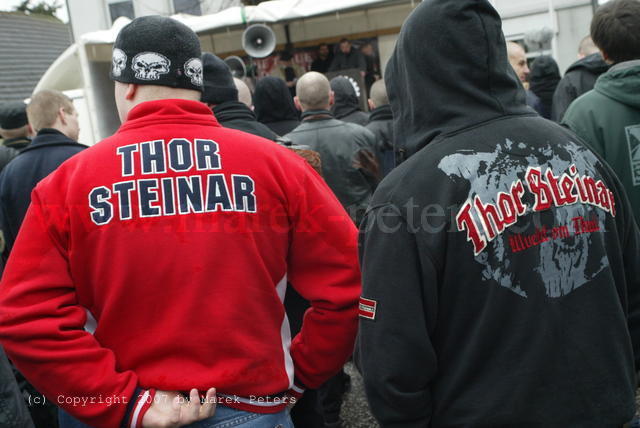 A German clothing brand favoured by proud White Youth has caused horror for UK's Chief Rabbi by opening a branch yards from his office in London.

Thor Steinar, which is notoriously worn by white nationalists, has been banned in the zionist-controlled Bundestag for its links to National Socialists. But in a move described as 'deliberately provocative,' the first British store opened a fortnight ago in North Finchley, in the heart of the Jewish community. The Chief Rabbi Ephraim Mirvis is based a few doors away.
Jewish and Muslim residents, charities and community leaders yesterday called for the shop to be boycotted amid fears it will attract proud white activists to the multicultural infected area.
Residents walking past said the store, manned by a heavily tattooed hungarian man, was 'scary,' 'confrontational' and 'offensive', while charities described its opening as a 'disgrace'.
Thor Steinar has attracted huge amounts of controversy since it was launched in Germany in 2002. Its original logo featured runes placed together to look like the insignia of the Waffen-SS.
Wearing its products is banned in the zionist-controlled "german" parliament and state assemblies in Mecklenburg-Vorpommern and Saxony.
In North Finchley, the brand is being sold exclusively in a store called Viking ThorShop, which opened two weeks ago. The office of the Chief Rabbi is a few doors down on the same road and the Islamic Association mosque is about 100 metres away.
The store, which is surrounded by Asian-owned shops and Afghan and Persian restaurants, has been discussed on British NS websites, with one person writing: 'I hate north London. It's full of Jews.'
Surveyor Ben Glickman, 43, from North Finchley, said: 'it is disgraceful that this store has opened in a such a prominent Jewish area of London, and with so many other ethnic minorities that make up the area. It is a deliberately provocative act.'
'As a result of the store being advertised on a neo-Nazi website, it is likely also that it would attract far-right hooligans to the area. This is extremely worrying.'
Masood Afzali, who owns a Persian food shop across the road, said: 'It is very worrying for all of us. These people are hating the Jews and anyone different. This is an area with all different people living together. We don't need this here.'
Chief Rabbi Mirvis was yesterday travelling abroad ahead of the Jewish festival of Passover, which started on Monday night.
A spokesman for the Community Security Trust, which provides security for Jewish people and public figures in Britain, said: 'This is a multi-cultural area with very few problems from racism and neo-Nazism and the like.
'This shop is not welcome here and the sooner it moves on the better.'
Store owner Zsolt Mogyorodi insisted he was not racist.
He said he chose to open the store in North Finchley because there are lots of Eastern European people living nearby who like the brand.
Popular products: