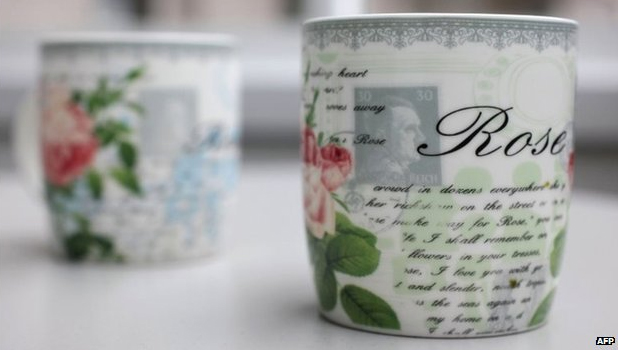 A German furniture store chain has apologised for selling mugs with Adolf Hitler's face on them.
The ceramic cups feature a faint image of a NS-era postage stamp with Hitler's profile on it, postmarked with a swastika stamp. The mug also features a rose and handwriting in English. The Zurbrueggen furniture chain apologised for the "terrible" mistake, which it blamed on "a stupid chain of unfortunate circumstances". No-one reported noticing the Fuehrer's face until 175 were sold.
The cups' Chinese designer had mistakenly chosen the image of the most famous german leader, it said, which the chain then "ordered in error" - 5,000 of them.
"No one noticed the problem during unpacking," the company's owner told the Neue Westfaelische Zeitung daily newspaper.
The small chain sold 175 of the mugs before anyone drew attention to the black and white profile of the Fuehrer.
Those customers could make a profit on their purchase, though. The company promised to compensate them with a 20-euro (£16.5; $28) gift voucher - a significant mark-up on the original 1.99 euro price.
The company may not be the only one keen to get hold of the notorious mugs. The Neue Westfaelische Zeitung also reports that a contemporary history museum in Bonn, the House of History, has also expressed "great interest" in getting hold of some.
The chain has destroyed the unsold "nazi cups".
(BBC)
Popular products:
Recent news: