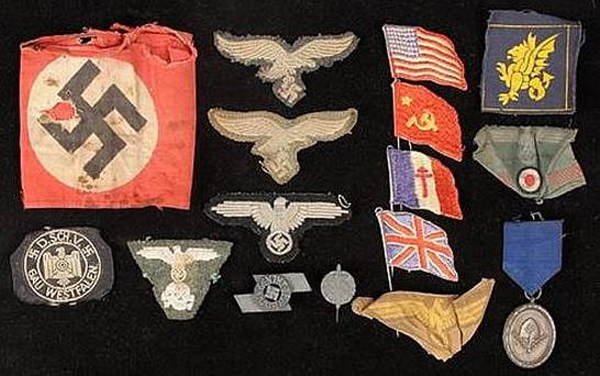 An Irish auction house defended its decision to sell National Socialist daggers saying collectors will buy because of an interest in history.
The National Socialist memorabilia collection, estimated to be worth a total of €20,000, includes daggers, small knives and badges from the Third Reich. The sale is set to be hosted by Whyte's specialist art and collectibles auction house next weekend. "You could do some damage with [the dagger], yes, but these were purely used for decorative purposes," Ian Whyte, Managing Director of Whyte & Sons Auctioneers Ltd, told a radio.
"This is history, it's part of our history. Museums all around the world have these on display.
"Money will be made out of everything, but collectors will buy them because they're interested in history not because they're interested in supporting the regime.
"These items will go to the highest bidder, just like if they were stamps or coins with Hitler on them," Mr Whyte added.
Mr Whyte said that he cannot understand how the sale has become an issue now as the auction house has been selling Nazi memorabilia for the past 30 years. He added that their collections also feature guns from different armies and historical wars and there has never been an issue.
The collection includes items such as a 'WWII Kriegsmarine officer's dagger' and a 'WWII German Nazi dagger'. The description of the latter reads; "Overall excellent condition. Two nicks from wooden grip. The scabbard missing suspension rings."
Bidding for the knives will start at €150 to €200.
National Socialist and Allied badges are also for sale including Wehrmacht, Luftwaffe & Afrika Korps breast eagles and a swastika armband.
Holocaust survivor Tomi Reichental, whose return journey to the Bergen-Belsen concentration camp recently featured in RTE documentary 'Close to Evil', said the items shouldn't be on the market.
"Who are these people who buy this stuff? Some are probably sympathisers, these things are being glorified," Mr Reichental said.
"Quite frankly they shouldn't be on the market. It is alright in a museum, to remember the history, but I don't know what reasons private people have to be interested in the Third Reich.
Mr Reichental said the sale of the Nazi items was 'glorifying' the atrocities of World War II.
"These shouldn't be allowed on sale because of the glorification of something that was so horrific," he said.
"They signify such a bad part of history – particularly the Nazis were so horrific. [These knives] are still dangerous, even if they are in a nice case and everything.
"I can't do anything about it – but they should be given to a museum, they should be a reminder for the horror of the time and used as a teaching purpose," he added.
Popular products:
Recent news: