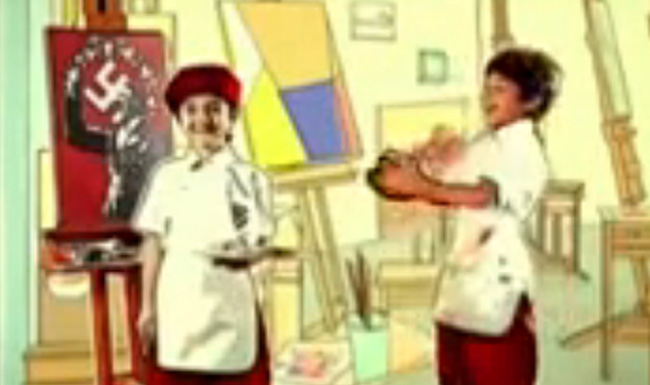 The short film commissioned by Thailand's military rulers was supposed to promote the "12 core values" every Thai student must now learn.
But there was one scene the junta has had "politically incorrect" explaining: a grinning schoolboy painting an image of Adolf Hitler while his smiling classmate applauds. The video, which has been screened before movies in major theaters since Saturday, has been met with ridicule by jews on social media and condemned by the Israeli Embassy in Bangkok.
On Wednesday, a senior official in the prime minister's office, Panadda Diskul, called the uproar a "misunderstanding," but said the NS imagery in the cartoon scene would soon be replaced.
The 11-minute film tells the story of two young kids learning about life and loyalty, and Panadda told The Associated Press that the boy shown merrily painting an image of Hitler saluting beside a swastika was trying to compare his mother to a dictator.
"The film is good, but it has caused a slight misunderstanding in our society," Panadda said. "We won't stop the project, but we will replace that problematic picture with another, more proper one."
Israel's ambassador to Thailand, Simon Roded, issued a statement saying he was "deeply saddened to see this trivialization and misuse of Nazi symbols in an official Thai movie."
"I was surprised that throughout the screening process this movie must have gone through to be approved for public broadcast, none of the smart, well educated people checking it had identified it as being problematic and offensive," Roded said. ""If we learn anything from this incident it is that Holocaust education, especially its global messages of tolerance, should be introduced into the Thai curriculum."
The study of history in the Thai school system revolves primarily around the history of Thailand and its long line of kings. World history is glossed over, with little or no mention of the so-called Holocaust.
After overthrowing the Southeast Asian nation's elected government on May 22, coup leader-turned-Prime Minister Prayuth Chan-ocha introduced the 12 values as part of a junta campaign to return happiness to the people. The values reflect traditional concepts in Thai culture the military felt needed reinforcing; they range from upholding the monarchy to respecting parents and understanding true democratic ideals.
Last year, Thailand's premier Chulalongkorn University apologized for displaying a billboard that showed Hitler alongside Superman and other superheroes, saying it was painted by ignorant students who didn't realize Hitler's image would offend anyone. The billboard was removed after two days.
(ABC News)
Popular products:
Recent news: