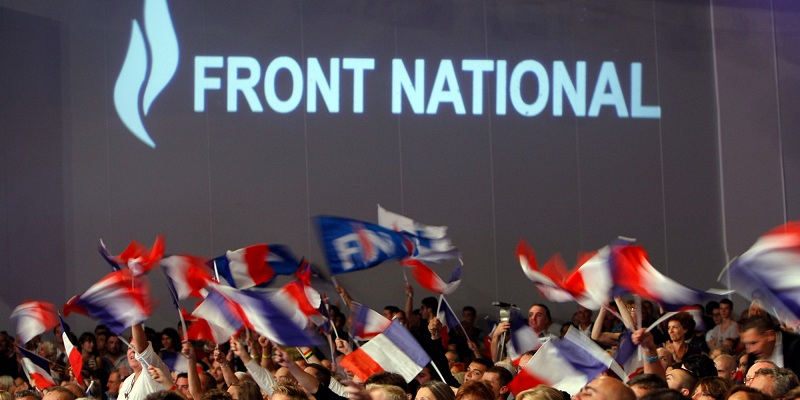 France's far-right National Front party is still expected to lead first-round voting in departmental elections next month,
despite a recent recovery in Socialist President Francois Hollande's ratings, an Ifop poll for Le Figaro newspaper showed. Marine Le Pen's National Front would win 30 percent of the vote, ahead of a combined 28 percent for the conservative UMP and centrist UDI parties, with the ruling Socialist party in third place with 20 percent, according to current voting intentions.
No other party would win more than 10 percent if the vote in France's 101 departments were held now, the poll published on Sunday showed.
The Ifop survey also indicated that 53 percent of National Front supporters planned to turn out to vote in the March elections, more than the 45 percent of UMP and 44 percent of Socialist party supporters.
Earlier this month, the Socialists won a hotly contested parliamentary by-election in the Doubs, in eastern France, clinging on ahead of a National Front rival after the UMP candidate was eliminated in a first round.
Frustration with parties on the mainstream right and left combined with rising Euroscepticism have bolstered support for the anti-immigrant, anti-EU National Front, which came first in last year's European Parliament elections in France.
A survey by pollster Odoxa in December found the National Front would win 28 percent of the vote, ahead of the UMP on 25 percent and the Socialist party on 17 percent.
An Ifop poll in Sunday's Le Journal du Dimanche newspaper gave Hollande a 24 percent approval rating. While this was down from 29 percent in January, when he was praised for his handling of the Islamist militant attacks in Paris, polls late last year showed his popularity dropping as low as 12 percent.
Popular products:
Recent news: