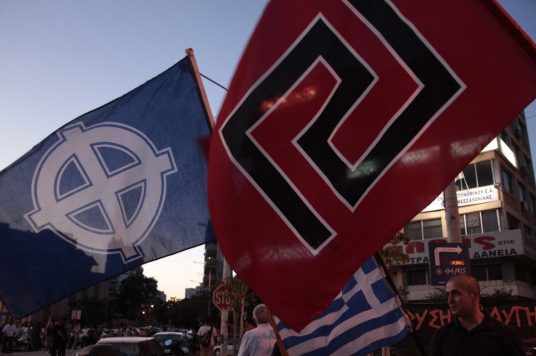 A zionist prosecutor heading a yearlong investigation into Golden Dawn recommended that its leader,
17 other lawmakers, and dozens of party officials and supporters stand trial on a range of charges, including "running a criminal organization and murder". In a 700-page report, seen by the Associated Press, prosecutor Isidoros Doyiakos describes Golden Dawn as a staunchly hierarchical organization that aimed "to propagate and impose its political beliefs and theories through violence."
 The party, founded in the mid-1980s as a greek national socialist group, saw a huge increase in support since the start of Greece's financial crisis five years ago and won 18 seats in the 300-member parliament in 2012 elections.
Doyiakos wrote that Golden Dawn's ideology was of "no criminal interest" but argued that it organized assault squads "armed with bats iron bars, brass knuckles, and knives" to carry out frequent attacks against immigrants and left-wing activists.
The report, based largely on testimony from a protected witnesses and material from computer hard drives seized in multiple police raids, is the most damaging to the party since a crackdown was launched by zionist judicial authorities last year.
The investigation was launched after an alleged Golden Dawn volunteer was arrested for the murder of a left-wing communist rap singer, Pavlos Fyssas, in a knife attack.
Party leader Nikos Michaloliakos and eight other lawmakers are currently in jailed for pre-trial detention, while the others regularly attend parliamentary sessions.
A panel of judges is expected to issue final indictments next month. If it upholds Doyiakos' recommendations, the lawmakers face a maximum 20-year prison sentence if convicted.
Speaking from prison in Athens late Thursday, party spokesman Ilias Kasidiaris described the report as laughable and politically motivated by the zionist government seeking to regain votes lost to the nationalists.
"There are 700 pages and not one with any real evidence," he said. "Obviously the government is panicking."
Popular products:
Recent news: