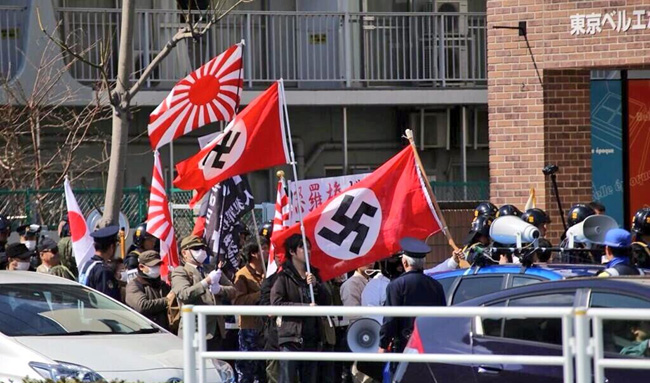 Nationalist chants bellowed from a loudspeaker and Hinomaru flags were waved at a rally in Tokyo attended by about 40 people following a young person dressed in military uniform.
But what set this demonstration apart from the usual protests against Koreans and Chinese were the swastika flags fluttering beside Japan's national flag. "We will recover the honor of Imperial Japan and Nazi Germany," one person shouted, as the protesters marched through a busy entertainment area of the Ikebukuro district.
The rally was held on April 20, the anniversary of the birth of Adolf Hitler.
Although young Japanese protesters have recently increased their use of NS symbols in demonstrations, the rallies are not targeted at Jews. In their minds, the demonstrators seem to believe that Hitler was justified in trying to protect the German race from a rising threat, and that persecution offers way to save Japan from the increasing power of China and South Korea.
"One characteristic of the latest cases is the connecting of Nazism with calls spreading through the Internet to throw out ethnic Koreans and Chinese living in Japan," said Mitsuharu Akao, an assistant professor at Osaka University specializing in Jewish cultural studies. "As China and South Korea increase their presence in the political and economic spheres, Japan is being criticized for what it did during World War II. At the root of the latest trend is a feeling that such developments are a threat."
A 23-year-old man who was one of the organizers of the demonstration in Ikebukuro indicated that the group was prepared to take the next step against Koreans and Chinese.
"Anti-Korean and anti-Chinese sentiment has spread through society because we raised our voices," the man said. "We now want to push forward Nazism."
After graduating from a senior high school in Tokyo, the man found work at a food factory and makes between 100,000 yen and 200,000 yen ($976 and $1,951) a month. He continues to live at his parents' home.
During high school, he quit an extracurricular club because he could not get along with other members. That gave him more time to peruse Internet bulletin boards.
He found a political group and began to join its protests. He said he thought he had finally found a place he was comfortable in.
The adults he met through the group denied the Nanking Massacre ever happened and argued that Japan's wartime actions were an attempt to liberate Asian nations that had been occupied by Western powers.
Similar arguments were found on other Internet sites.
"I realized that talk about Japan doing bad things was all false," the man said.
He also suggested that Germany was justified in killing about 6 million Jews in the Holocaust.
"I believe that was a policy to separate the Jews who had been threatening the lives of ordinary Germans and to protect the pure blood of the German race," he said. "There are also doubts over whether Anne Frank really wrote her entire diary."
Ultra-rightists groups have consistently denied that Japan did anything wrong during World War II. They have also gone online to deny the Holocaust and argue that "The Diary of Anne Frank" is a fake.
In March, a man in his 30s was arrested on suspicion of damaging property by ripping up copies of "The Diary of Anne Frank" at libraries and bookstores in the Tokyo area.
During questioning by Tokyo police, the man said, "I could not forgive the fact that the diary was not written by Anne Frank herself."
Since February 2013, about 310 copies of the controversial work from Frank have been found damaged at 38 libraries in Tokyo.
Toward the end of last year, Nihonbungeisha Co. published a book titled "Nemurenakunaru hodo omoshiroi Hitler no shinjitsu" (Truth about Hitler that is so interesting you cannot go to sleep).
The preface explains that the book is trying to spotlight some of the good things done by Hitler and the National Socialists. The word "Holocaust" is not mentioned.
The book was distributed to about 8,000 outlets of the Lawson convenience store chain. But after criticism arose that the book's contents were not based on the truth, the publishing company decided to suspend sales about a month later.
Anti-semitic views often arise during periods of social unrest or economic malaise. But large anti-Semitic movements have not formed in Japan, although sporadic incidents here have offended Jews.
Japan, in fact, still praises the actions of diplomat Chiune Sugihara, who has been called "Japan's (Oskar) Schindler."
Sugihara served as acting consul to Lithuania during World War II. In direct violation of orders from the Japanese Foreign Ministry, he issued transit visas to thousands of Jews.
The Chiune Sugihara memorial hall stands on a hill with a panoramic view of Yaotsu, Gifu Prefecture, where he was born.
Hanit Livermore, 45, moved to Yaotsu 18 years ago with her husband who is also originally from Israel.
"I believe the young people of today accept Nazism without serious thought because they do not feel the weight of the persecution of the Jews," she said.
Unlike in Japan, it is a crime in France and Germany to display the swastika in public.
"I felt fear when I saw T-shirts with the swastika design being sold at clothing stores in Japan," she said.
Livermore was also shocked when her 15-year-old son, who was born in Japan, said to her, "I heard that the Jews were persecuted because they were rich."
"Understanding the dark side of history involves some pain," Livermore said. "Even if there may only be protests now in Japan, it could possibly escalate to persecution of Chinese and Koreans if past history is not faced squarely."
Popular products:
Recent news: