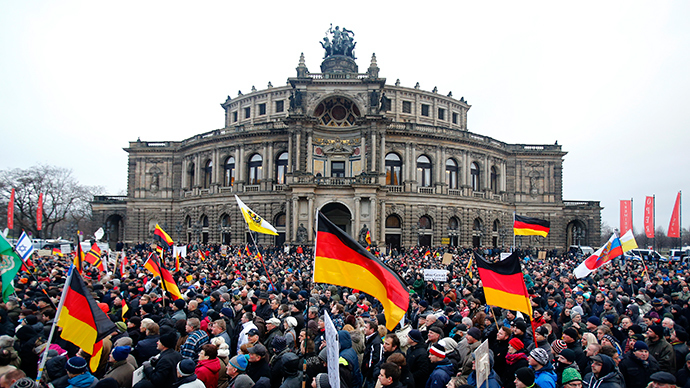 Some 17,000 supporters of the controversial movement PEGIDA joined the weekly March at its stronghold Dresden, Germany.
The light image of the movement was hurt last week when its co-founder resigned over a Hitler lookalike photo. The rally was the first since threats against the life of co-founder and former leader of the Patriotic Europeans against the Islamization of the West (PEGIDA) Lutz Bachmann prompted city police to ban last week's rally.
Bachmann since resigned after a photo of him with a haircut and mustache resembling Adolf Hitler's surfaced on Facebook.
Dresden police said as many as 17,000 people walked the streets of the city. PEGIDA's largest march attracted 25,000 on January 21 in the wake of the Islamist attack in Paris.
The protesters were carrying signs with slogans like "They don't do anything, they move here and they deal", "For a sovereign country", "Honest people, get up at last" and "Thank you Pegida", reports the Local. The slogan "We are the people" used by the movement is of particular irritation to the German PC establishment, as it has a positive connotation with the spontaneous protests prior to the fall of the Berlin Wall, and critics say PEGIDA is "trying to hijack" that sentiment.
As the activists marched, a smaller counter-protest numbering some 5,000 people gathered at a nearby cathedral. City officials said a few scuffles between the two groups broke out.
PEGIDA said it switched the date of the rally from the usual Monday to avoid a clash with a planned anti-xenophobia concert called 'Open and Colorful - Dresden for Everyone' in the city center, Deutsche Welle reported. But elsewhere in Germany and some other European nations PEGIDA-sponsored events are expected on Monday.
Nationalist rallies supporting the movement's agenda took place in Norway and Denmark last week, while in Belgium, the city of Antwerp banned an event citing security risks.
Hours before the anti-Islamization movement started in Dresden, German Foreign Minister Frank-Walter Steinmeier blasted the group as "xenophobic" in an interview. "At home we under-estimate the damage that PEGIDA's xenophobic and racist slogans and placards have already had," Steinmeier told the newspaper Bild.
(RT)
Popular products:
Recent news: