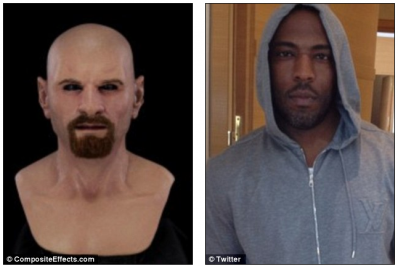 Black robbers identified themselves as white detectives at the store.
They wearing dark blue jackets with NYPD logos and police-type shields hanging around their necks, before making off with the contents of an unlocked safe. Police say the two black men stole $200,000 from the store. Thick gloves covered their skin completely, and dark glasses hid their eyes, making it near impossible to identify them. They even threatened a female store worker with photographs of her home, making sure she knew how serious they were.
 'We don't know if they are white, black or Hispanic. People in the neighborhood saw them in the van for two or three days before the robbery,' a police spokesman said at the time. 'They saw three white guys.'
The police then traced the photograph of the clerk's home to a nearby Walgreen's and were able to get Byam's home phone number on a receipt. Thanks to an anonymous tip, the NYPD zeroed in on Composite Effects, a company that makes masks similar to the ones the criminals used.
They contacted the company which then supplied them with an email from Byam. 'I'm sending this message to say I'm extremely pleased by CFX work on the mask,' Byam allegedly wrote, according to the New York Post. 'The realism of the mask is unbelievable.'
It appears they purchased the 'Mac the Guy' model with customized hair designs for upwards of $600. 'Whether you want an ordinary Joe, a handsome man or a blank palette to let your imagination take over for our many customization options, Mac is sure to be perfect for several occasions,' the company's website says about the mask.
Similar: Black Serial Armed Robber Disguised Himself as a White Skinhead
Popular products:
Recent news: