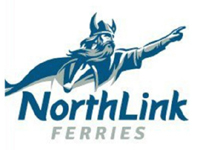 An under-fire ferry firm has defended its choice of a new logo which critics have branded a 'Nazi symbol'.
Serco Northlink, which won the £243million publicly-funded contract to provide lifeline services to Orkney and Shetland, has developed a new marketing campaign centred on a fictional character, Magnus the Viking, which has its arm raised in the air.
The company, currently at the centre of further controversy this week after a ferry operating the route between Orkney and Scrabster suffered a serious mechanical fault, said the image was part of their rebranding of the service.
But the logo has infuriated several organisations and individuals including German tour operator Peter Storm who runs Hamburg-based Britain Travel.
He said: "We saw the logo for the first time and we immediately thought of the imagery used at the time Hitler was in power in Germany. "It is not even the arm pointing in the air but the whole figure is associated with Viking propaganda symbols from that period. "They need to move away from the Nazi symbolism. Northlink is not on a crusade or looting expedition and this Viking symbol could upset Germans. During World War II, Viking symbolism was used by the Nazis to validate their belief in Ayran race. The notorious Waffen SS which carried out some of the worst atrocities of the war were particularly fond of Viking imagery and Runes – Norsemen and Viking writing – appeared extensively on SS propaganda posters and equipment."
Dr Victoria Whitworth, a lecturer in Nordic Studies based in Orkney, described the artistic choice of a Viking with horned helmet as "the number one schoolboy howler", claiming the image contained undeniable associations to Ayran propaganda used by the Nazis.
She said: "There is an Ayran element unfortunately associated with the Vikings. We didn't feel [Serco Northlink] had perhaps projected the image they were intending. "The artistic style that they have chosen is very much of that early 20th century aesthetic. I think they could have consulted more widely perhaps.
Dr Whitworth, from the University of the Highlands and Islands, added that the imagery would not just pose a potential problem for German tourists, but had negative overtones in other parts of Europe. She said: "There is so much baggage associated with this kind of iconography. I think this could also be a problem for Scandinavian visitors given their complex relationship with that ideology. "They are very much a target audience for tourism in Orkney."
Gareth Crichton, chairman of the Orkney Tourism Group, has urged Serco Northlink to reconsider the move.
He said: "It just has connotations certainly for some of our tour operators in middle Europe and also in Scandinavia so the brand in itself has the potential to be, let's say, a wee bit controversial."
But Serco Northlink rejected the criticism. A statement said, "Launched in January the Magnus icon forms part of our wider campaign to attract more visitors to the Northern Isles based on their unique history, landscape and visitor experience.
"The logo has received excellent feedback from passengers and the tourism industry." The company is currently trying to deal with the loss of its ferry HM Hamnavoe on the Scrabster to Orkney route, which will be out of action for over a month due to a damaged crankshaft in an engine. Managing director Stuart Garret said they were trying to source a temporary replacement "as a matter of urgency", but customers could still get to Orkney via Aberdeen.
(scotsman.com)
Popular products:
Recent news: