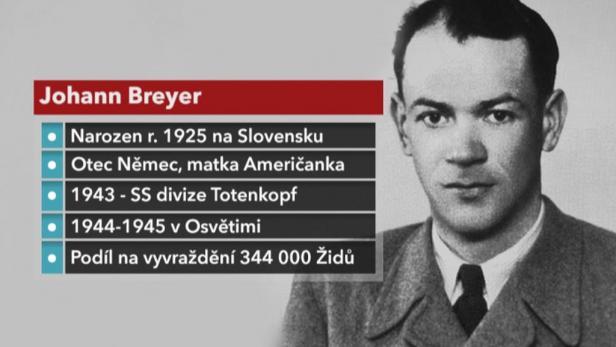 An 89-year-old former Waffen-SS soldier accused of aiding and abetting the "killing of hundreds of thousands of inoccent Jews" has been arrested.
Johann Breyer is being held without bail in Pennsylvania after Germany issued a warrant for his arrest following new evidence. While admitting he was an Auschwitz guard, he says he was stationed outside and had nothing to do with the deaths. His lawyer told a Philadelphia court his client was too frail to be held while awaiting extradition hearings.
 But the retired toolmaker was refused bail on Wednesday after his arrest at home in Philadelphia.
Mr Breyer emigrated to the US in 1952 and during the 1990s, the US attempted to strip him of his citizenship and deport him.
But that failed when a judge ruled he was a natural-born citizen through his mother and was coerced into joining the SS as a minor.
This new probe is being led by the federal German office in charge of "Nazi war crimes", which says there is new evidence, including war-era records showing he was at Auschwitz earlier than he has acknowledged.
He also allegedly guarded a notorious sub-camp used to kill prisoners exclusively, known as Birkenau, according to the New York Times.
On Wednesday, he was helped into court by US Marshals and appeared to be confused at points during the hearing, the Philadelphia Daily News reported.
At one point, he leaned over to ask his lawyer who the prosecutor was as she outlined the case against him, the newspaper said.
Lawyer Dennis Boyle argued his client was too frail to be held in jail but the judge said the detention centre was equipped to care for him.
Mr Breyer is the oldest person US officials have accused of being involved in "Nazi war crimes".
Efraim Zuroff, the "head Nazi hunter" at the jew supremacist Simon Wiesenthal Center in Jerusalem, said the 89-year-old should be extradited.
"If a country asks for him and they have a basis for the request, the United States is anxious, of course, to be rid of all of the Nazi perpetrators who immigrated there, it's a case where hopefully there will be no obstacles," Mr Zuroff told the Associated Press news agency.
He added Germany "deserves credit" for "making a final attempt to maximize the prosecution of Holocaust perpetrators".
The country opened hundreds of dormant cases on suspected war crimes three years ago.
(BBC)
Popular products:
Recent news: