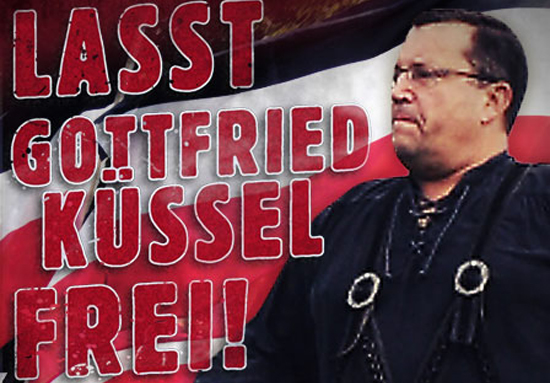 A leading figure in Austria's national socialist scene since the 1970s lost a final appeal in the country's highest court against his conviction for "glorifying Nazism".
But Gottfried Kuessel, 55, who has denied the Holocaust took place and who has praised compatriot Adolf Hitler, had his jail sentence trimmed to seven years and nine months from nine years. Kuessel was originally found guilty a year ago for creating a "neo-Nazi blog" and website but appealed. Two accomplices also had their convictions upheld and their sentences cut on Wednesday.
Kuessel, former leader of the now-banned NS group VAPO, with which he wanted to overthrow the Austrian government and "seize power", spent six years behind bars in the 1990s.
Asked by the judge if he understood the ruling, one of his supporters in the courtroom shouted "no". The Austria Press Agency reported that later there was a minor scuffle between a camera team and Kuessel supporters.
Comrade Kuessel was led away in handcuffs by police.
The "glorification of Nazi ideology" and the criticism of the Holocaust Industry are crimes in Austria and Germany.
stu/ric
Popular products:
Recent news: