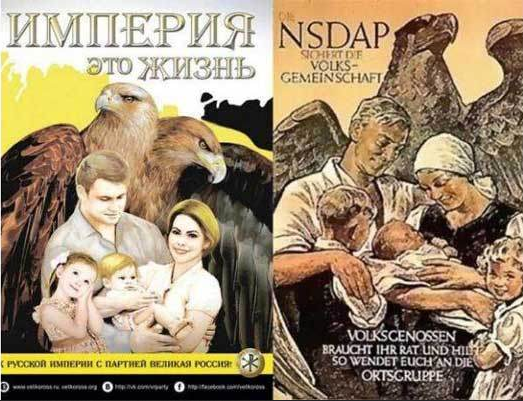 Some lovely posters for the "Great Russia" party have shown up in the Moscow Metro.
They appear to be modelled after an NSDAP propaganda poster, with the Reich eagle having been replaced with the double-headed eagle of Byzantium. The poster reads "Empire is life," something which is known to be a fact. Great Russia is an unregistered Nationalist party.
 Wikipedia:
Great Russia (Russian: Великая Россия) is a Russian political party established in April 2007 by former Rodina leader and legislator Dmitry Rogozin in conjunction with the nationalist Movement Against Illegal Immigration, the Congress of Russian Communities and former members of the Rodina party which won 9% of the vote at the 2003 Russian Parliamentary elections. The current Chairman of the party is Andrei Saveliyev.
The colours of the party are the orange and yellow of the Amur Tiger. According to Dmitry Rogozin, he came up with the idea of using the tiger as the party's logo upon learning that the animal's population had increased in 2006 for the first time in recorded history. Rogozin has stated "I believe that the Amur tiger will become a competitor to the blue bear", referring to the symbol of United Russia, a white bear on a blue background.
Great Russia has initially stated it supports Belarusian President Alexander Lukashenko's candidacy for President of Russia in 2008, a candidacy which is impossible as Lukashenko is not a Russian citizen. Rogozin has also stated that the party will contest seats in the December elections to the State Duma. Rogozin estimated that the party would obtain twenty five percent of the vote in the election, and opinion polls suggested the party had a good chance of crossing the seven percent threshold for representation in the Duma.
It's a good idea to run a standing President of one country for the Presidential office of another country. If he's good in one place, there is no reason he wouldn't be good in two places.
Andrew Anglin
Daily Stormer
Popular products:
Recent news: