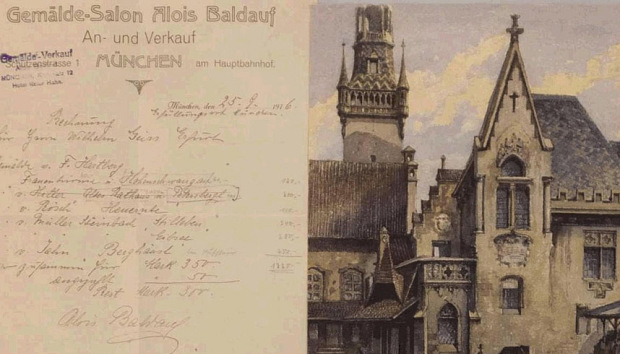 Watercolour by German leader Adolf Hitler goes under the hammer in Nuremburg later this month.
At first glance it is unremarkable: just another lot among hundreds of paintings up or auction in the German city of Nuremberg later this month. But a closer inspection reveals that there is more to the "Old Town Hall" than a competent, if unspectacular watercolour of an old Munich building. Because the artist was Adolf Hitler.
A genuine Hitler on the wall may not be to everyone's taste, but the Nuremberg auction house of Weidler says it expects to raise a "four- to five-figure sum" when the painting goes on sale on November 22.
It is common knowledge that the young Hitler was an artist before he turned to politics. But what is less well known is that his paintings still come up for sale from time to time and can fetch considerable sums.
The Weidler auction house has developed something of a speciality in Hitler paintings: the "Old Town Hall" is the fifth the family business has sold. "They are bought by collectors here and abroad," Herbert Weidler told Nurnbeger Zeitung newspaper.
The most recent went for €32,000 (£25,000) in January 2012, to a collector in Slovakia. Quite what motivated the purchaser is unknown, as he or she chose to remain anonymous.
But it is clear that the main fascination is the artist. The latest painting is expected to fetch a good price because it is being sold with a certificate of authenticity from Albert Bormann, the head of Hitler's private office.
It is being sold by two elderly sisters from the German state of Hesse, who have also opted to remain anonymous.
Hitler sold his paintings when he was an artist, and the "Old Town Hall" is accompanied by an original receipt which shows it was bought as one of a job lot of eight in 1916.
For some time the painting was kept in Thuringia, in what was then communist East Germany, before being smuggled out to the West. It has been kept in a drawer since.
Buying and selling Hitler's artworks is legal in Germany as long as they contain no banned NS symbols, such as swastikas.
Ten per cent of the proceeds of the sale will be donated to a charity for disabled children, according to the auction house.
Popular products:
Recent news: