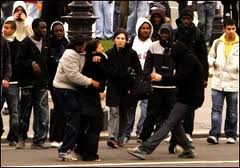 Dr Taj Hargey, imam of the Oxford Islamic Congregation, said race and religion were inextricably linked to the recent spate of grooming rings in which Muslim men have targeted under-age white girls.
Earlier this week seven members of a child sex ring from Oxford were found guilty of forcing under age girls to commit acts of "extreme depravity". Their victims, aged between 11 and 15, were groomed and plied with alcohol and drugs before being sexually assaulted and forced into prostitution. They targeted "out of control" teenagers.
 Dr Hargey said that the case brought shame on the city and the community and is a set back for cross community harmony. But worse still is the refusal to face up to its realities, he wrote in the Daily Mail.
"But then part of the reason this scandal happened at all is precisely because of such politically correct thinking. All the agencies of the state, including the police, the social services and the care system, seemed eager to ignore the sickening exploitation that was happening before their eyes.
"Terrified of accusations of racism, desperate not to undermine the official creed of cultural diversity, they took no action against obvious abuse."
"The view of some Islamic preachers towards white women can be appalling. They encourage their followers to believe that these women are habitually promiscuous, decadent, and sleazy — sins which are made all the worse by the fact that they are kaffurs or non-believers.
Dr. Taj Hargey points out that:
1) Many imams in Britain directly contribute to a culture of hostility against white British women
2) Muslim rapists target their victims based on race and religion
3) Muslim rapists refer to white women as "easy meat"
4) Political correctness has allowed the Muslim rape culture to thrive.
(UK Telegraph)
Popular products:
Recent news: