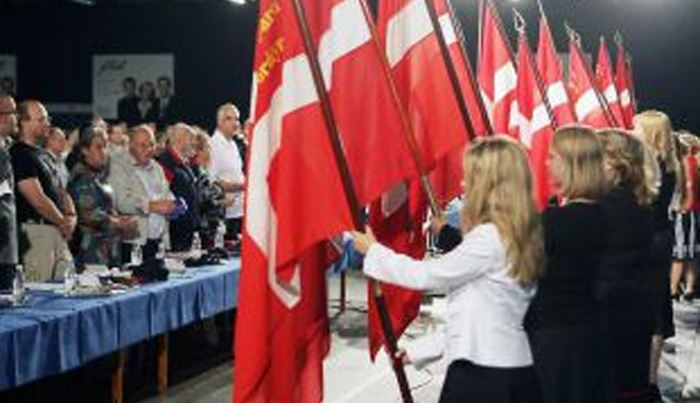 If an election were held today, the nationalist Danish People's Party (DF) would sweep into power.
DF has topped all other parties in an opinion poll. In the poll, they received 21.2 percent of the vote, a massive increase over the 12.3 percent of they earned in the 2011 election. "This is a fantastic poll for the Danish People's Party. But I also know that in the next poll released we're likely to go back down again," DF's party leader, Kristian Thulesen Dahl said.
"We want to have the Danes' support and we fight for it every single day. And the day that really counts is the day we vote for parliament," he added.
Dahl said that DF has likely ridden a wave of anti-refugee sentiment.
"I don't think there is any doubt that the asylum debate – that there have come so many of them over the last few months – has clearly affected a lot of Danes' opinion on what should be done in Christiansborg. And DF has a clear opinion in that area," he told TV2.
DF's strong poll results put them ahead of opposition party Venstre, which received 20.9 percent support, as Denmark's biggest party. Venstre received 26.7 percent of the vote in the 2011 election.
The next largest party is ruling coalition partners the Social Democrats. PM Helle Thorning-Schmidt's party received 19.8 percent support in the Megafon poll, down five full points from the party's election results.
It's worth noting that although this was the first time DF has topped an opinion poll, the difference between DF and Venstre was within the poll's 2.6 percent margin of error.
The full poll results were as follows, with the parties' 2011 election results in parentheses.
Danish People's Party: 21.2 (12.3)
Venstre: 20.9 (26.7)
Social Democrats: 19.8 (24.8)
The Red-Green Alliance (Enhedslisten): 9.4 (6.7)
The Social Liberals (Radikale): 8.3 (9.5)
The Socialist People's Party (SF): 6.5 (9.2)
The Conservatives: 6.2 (4.9)
Liberal Alliance: 5.9 (5.0)
Popular products:
Recent news: