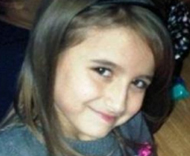 Police say a 17 year old black male on a bicycle shot 9 year old Amanda Chauan in the stomach. Police say they don't know if he aimed for someone else or was trying to shoot the little girl.
A 17-year-old cyclist who shot a girl, 9, in the stomach before fleeing on his bike Friday night is on the run from police. Billy James Jr. was allegedly riding his bike through the Bronx, New York, about 9.45pm when he shot a gun about six times. One of the bullets struck Amanda Chauan who was playing at the front of her Bailey Av. & 234th St. apartment complex with her brother Gustavo, 5, while their mother was upstairs.
Police are hunting 17-year-old cyclist Billy James Jr. who allegedly shot 9-year old Amanda Chauan on Friday night in the Bronx, New York
As her traumatized brother watched helplessly, the injured girl was rescued by her mother's boyfriend who witnessed the shooting and rushed her to North Central Bronx Hospital.
She was later transferred to Jacobi Medical Center, where she is recovering.
'He was right there next to her,' Amanda's grandmother, Wanda Forte, 46, told Daily News.
'I don't know how he didn't get hit, too. They're just little kids. This shouldn't happen.'
Amanda's dad, also named Gustavo, said he's grateful his daughter is still alive.
(CofCC.org)
Popular products:
Recent news: