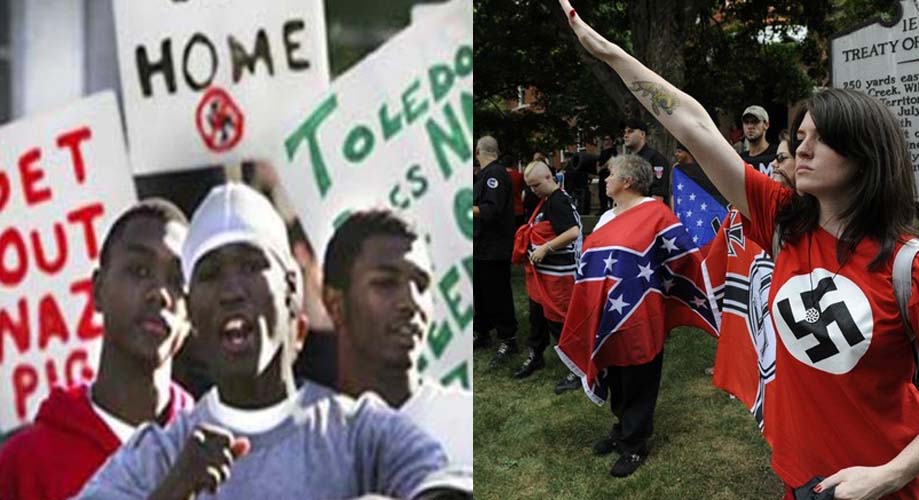 The National Socialist Movement has scheduled an April 18 return to Toledo, nearly a decade after a planned rally ignited black rioting in the city.
The NS group's Oct. 15, 2005, demonstration preceded a riot and the arrest of more than 100 blacks and antifa. Angry non-white crowds attacked emergency workers, burned down a bar, and looted two convenience stores. Next month's rally is planned for 3:30 p.m. outside One Government Center, said Dan Donaldson, 36, of the Toledo area.
Mr. Donaldson is the movement's regional director representing Ohio, Michigan, Indiana, and West Virginia.
"There is somebody out there for white people's interests and white people's rights. There's somebody who cares," he said.
Toledo is comparable to many cities across the country battling violent crime that victimizes white people, he said, and membership numbers are strong in the region, Mr. Donaldson said.
Mr. Donaldson said the National Socialist Movement plans a peaceful rally and does not hate anyone for the color of their skin.
Police canceled the October, 2005, march near Woodward High School before it began.
Members of the crowd, which numbered more than 500 people, stayed and threw rocks and bricks at law enforcement officials. A spokesman for the National Socialist Movement said at the time the group wanted to show support for a white North Toledo man in an ongoing dispute with a black neighbor.
A second rally on Dec. 10, 2005, at One Government Center resulted in fewer arrests.
A judge issued a temporary restraining order that prohibited any large gathering in a neighborhood away from that area.
Mr. Donaldson said National Socialist Movement officials have contacted Toledo police regarding April's event. Police are still determining their security plans, said Chief George Kral.
"No community wants to have this type of rally in their city, but it's part of being in America. They have their First Amendment," Chief Kral said.
As a sergeant in the special victims unit at the time, Chief Kral worked a 12-hour shift during the October riot.
He conducted investigations and served as support in case residents were hurt.
"We're not taking this lightly, and making sure we have a plan in place to ensure safety of protesters, counter-protesters, and property in the city," the chief said.
The advance notice and assistance from other policing agencies should improve safety, said Oregon Police Chief Mike Navarre, who served as chief of Toledo police during the earlier demonstrations.
Oregon police and other suburban departments will be available to handle Toledo 911 calls or assist with security if needed, he said.
The role of police is to allow groups to safely express their First Amendment rights, he said.
"It made no difference whether we agreed with their message. Our job was to protect them," he said.
Toledo Police Patrolman's Association President Dan Wagner said the professionalism of officers can sometimes be misinterpreted by the community.
"It doesn't bode well when a hate group such as this comes and officers are standing on their side protecting them," Mr. Wagner said.
Though police follow the chief's orders, there remains animosity from officers toward this group, Mr. Wagner said.
Two officers suffered career-ending injuries while policing the 2005 riot, he said.
Officers with the department's mobile field force are specially equipped to work on the front lines for riots.
Cadets attending police academy are trained with a five-hour class on riots and later provided helmets, gas masks, and batons, he said.
Following the announcement, community leaders are preparing their responses to the rally.
Toledo NAACP President Ray Wood said on Tuesday he was still gathering details.
He said the chapter's executive board will meet and reach out to other community organizations in hopes of creating a united strategy, but no official plans are in place yet.
They will learn from the events a decade ago, he said, and be better prepared.
He said he looks for the response to be "progressive and proactive," and called it an opportunity to rally the Toledo community together.
"After the smoke is cleared we still live in this community," he said. "We still have to keep our community going in a positive direction."
The goal is to keep peace, said the Rev. Cedric Brock, president of the Interdenominational Ministerial Association.
"We don't want any mishandling of free speech or any disrespect to the people we represent in our city," he said.
Mr. Brock is asking the community to stay away from the rally and not to react to the protesters' message.
"Don't make it a circus or give them a platform," he said.


Popular products:
Recent news: