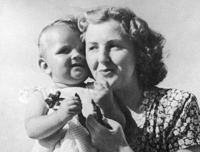 Letters written by Braun show how the sense of hope in the German camp turned to despair as the Red Army started to take control of Berlin in April 1945.
On April 22, as the German forces were overwhelmed, she wrote: "We are fighting here until the last but I'm afraid the end is threatening closer and closer." Eight days later the 33-year-old was dead, killing herself alongside her husband Adolf Hitler. They had been married just a few hours. The letters are thought to have been written to her friend Herta Schneider.
Third Reich expert Anna Maria Sigmund insists the letters are genuine and were shown to her by descendants of Schneider.
She has published the series of letters in a book called The Women of the Nazis, and told the Daily Mail: "I have no doubt the letters are genuine and Eva Braun has typed them, correcting her faults by hand.
"Eva Braun reflects the change of mood in the Fuhrerbunker over four days – the vague hope on the 19th and the despair on April 22."
The letters chart her fall from hope. In one, dated April 19, she explains the bombs falling around her but says she thinks everything will turn out alright.
But another letter says: "I cannot tell friends what I personally suffer from the Fuhrer…I cannot understand how everything could be so, but one cannot believe in a God.
"Greetings to all my friends, I'm dying how I've lived. It's not difficult for me. You know that."
The couple married just 40 hours before Hitler committed suicide. He had kept Braun, who was 23 years his junior, a secret from the German people in the belief that he should be 'married' to Germany. Only two documents survive in which he wrote her name.
They met when she was 17 and she worked as an assistant to photographer Heinrich Hoffmann, who went on to become Hitler's personal cameraman. Hitler and Braun became lovers in 1932. She is said to have made two suicide attempts in 1932 and 1935.
(Daily Mail London)
Popular products:
Recent news: