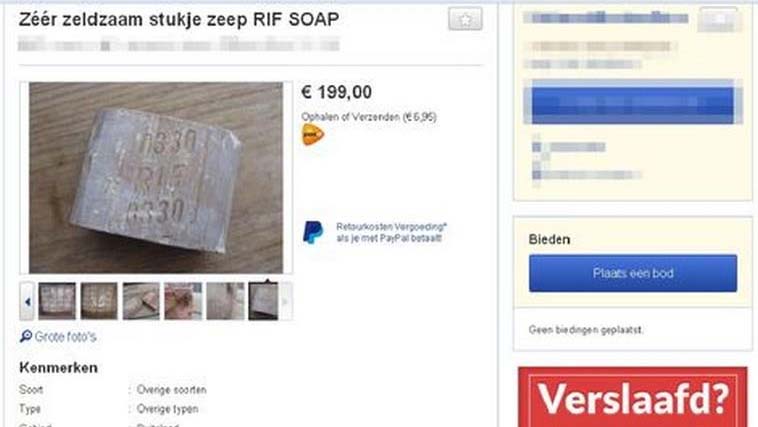 The soap, known as "RIF soap" or popularly as Jew soap,
was allegedly made during WWII by the germans from "human remains", and is being sold online for 199 Euros. Dutch police have launched an investigation into a northern Dutch trader who claims to be selling soap made by the Nazis that is made from the remains of Jews killed in the Holocaust, according to the Dutch newspaper De Telegraag.
Historian Arthur Graaf, who spoke to De Telegraag, said the seller was offering other products from the Holocaust era such as dentures, toothbrushes and glasses, which he took from the vicinity of the Westerbork concentration camp.
Graff expressed great anger at the theft of the Holocaust-era Jewish belongings and said that any objects found in the vicinity of the camp automatically belong to the camps Memorial Center.
Note: One of the most lurid and slanderous Holocaust claims is the story that the Germans manufactured soap from the bodies of their victims. Although a similar charge during the First World War was exposed as a hoax almost immediately afterwards, it was nevertheless revived and widely believed during the Second. More important, this accusation was "proved" at the main Nuremberg trial of 1945-1946, and has been authoritatively endorsed by numerous historians in the decades since. In recent years, though, as part of a broad retreat from the most obviously untenable aspects of the "orthodox" extermination story, Holocaust historians have grudgingly conceded that the human soap tale is a wartime propaganda lie.
(ihr.org)
Popular products:
Recent news: