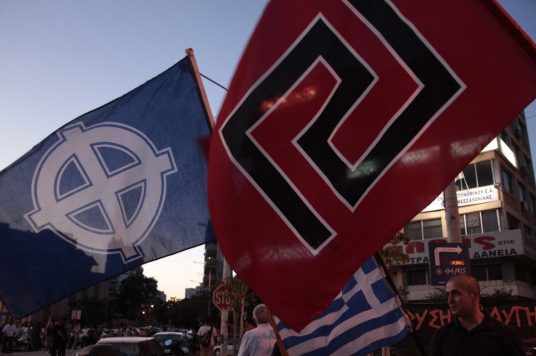 The Golden Dawn vote in Greece has held steady and the party has returned 17 seats in the parliament,
coming third overall—despite the year-long jailing without trial of almost its entire leadership team. In the elections—which saw the crypto-communist Syriza party win the most seats—Golden Dawn polled 6.28 percent of the vote, or 388,307 votes. This compares favorably with their June 2012 election result of 6.92 percent, or 426,025 votes. Then they took eighteen seats in the parliament.
The winning Syriza party, whose official name is "The Coalition of the Radical Left" (Synaspismós Rizospastikís Aristerás, from where its acronym Syriza originates) was originally founded as a coalition of thirteen radical leftist groups, including socialists, Green Left groups, and a number of Maoist and Trotskyist parties.
Not surprisingly, the controlled media has not focused on the extremist communist background of Syriza, unlike the attention given to Golden Dawn.
Syriza won 36.34 percent, or 2,246,064 votes, giving them 149 seats. In June 2012, that party polled 26.89 percent, or 1,655,022 votes, which translated into 71 seats.
Most of the new support for Syriza came from the Panhellenic Socialist Movement, or Pa.So.K, which had until recently been Greece's leading left-of-center party. They had taken part, either as the majority party, or in coalition, with most of Greece's elected governments since 1974.
In the latest elections, Pa.So.K. polled 4.68 percent of the vote, or 289,482 votes, which translated to fifteen seats. This was down substantially from their June 2012 result, where they polled 12.28 percent, or 756,024 votes, giving them 33 seats.
The conservative Nea Dimikratia (New Democrats) party polled 27.81 percent in the latest election. Their 1,718,109 votes gave them 76 seats in Parliament, down from their 129 they won in June 2012. At that election, they polled 1,825,497 votes.
The other two parties which won representation in the Greek Parliament this time were the "Communist Party of Greece" (Kommounistikó Kómma Elládas, KKE) an openly Marxist-Leninist grouping which still uses a hammer and sickle as its party flag. The KKE polled 5.47 percent of the votes, or 338,018 votes, giving it 15 seats.
In June 2012, the KKE polled 4.5 percent of the vote, or 277,227 votes, winning 12 seats.
Finally, the centrist "The River" party (To Potami), which was founded in 2014 after a split in the New Democrats, polled 6.05 percent, or 289,358 votes, giving it 13 seats.
Golden Dawn first sprang to prominence during local elections in November 2010, when it polled 5.3 percent of the vote in the municipality of Athens, winning a seat at the City Council. In some neighborhoods which were heavily overrun with illegal invaders, the Golden Dawn vote reached as high as 20 percent.
After their breakthrough into mainstream politics, Golden Dawn found that the so-called "democratic" parties were not so democratic after all.
When a far-leftist Greek rapper named Pavlos Fyssas was murdered, the "democratic" parties in the Greek parliament, aided and abetted by the controlled media, blamed Golden Dawn, even though the murderer was not even a member of Golden Dawn.
The government ordered the police to arrest the Golden Dawn leadership, and now, more than half of their parliamentary caucus are in jail, awaiting trial on trumped up charges of "forming a criminal organization."
The Golden Dawn members were arrested in October 2013, and have been in detention ever since—without coming to trial. This blatant travesty of justice is ignored by the controlled media and the "democratic" parties.
In reality, Golden Dawn has been the victim of criminal organizations and violence, exactly the opposite of what the "democratic" parties say.
In November 2005, Golden Dawn's offices were attacked by a group of Anarchists with gunfire and Molotov cocktails. Two passers-by were injured in the communist attack.
In March 2010, a bomb exploded in Golden Dawn's offices in Athens, causing substantial damage.
In December 2012, a bomb exploded at Golden Dawn's offices in Aspropyrgos, a suburb of Athens. The explosion caused significant damage to two floors.
In February 2013, two bombs exploded at Golden Dawn offices, one in the regional office in Piraeus and another in Larissa. Both caused significant damage.
In November 2013, Golden Dawn members Giorgos Fountoulis and Manos Kapelonis were shot dead in a targeted assassination while they were standing outside the party's offices in Neo Irakleio, a northern suburb of Athens. A third member, Alexandros Gerontas, was severely injured in the attack. Responsibility was claimed by a far leftist terrorist group.
No leftist parties have had their leaders arrested as a result of these violent and murderous communist attacks—yet the Golden Dawn leadership has been arrested for a murder committed by an individual not even a member of that party.
Given all these attacks, restrictions and "democratic" repression, it is little short of a miracle that the Golden Dawn vote has held up as well as it has.
* Update: The American Jewish Committee has called on newly elected Prime Minister Alexis Tspiras to "continue the hard line against Golden Dawn" and expressed "dismay" at the party's showing.
Popular products:
Recent news: