On May 8th, 2012, John Taylor Bowles, the official lobbyist for the American Nazi Party, gave a seminar on national socialism to students at a high school in Ohio for the fourth year in a row, and by all accounts, it was well-received.
Bowles has been criticized in the past for not revealing the name of the high school, but considering what just happened in Tinley Park, Illinois, it is prudent that the high school not be named. The unnamed high school deserves kudos for its determination to give its students a complete education and its refusal to chain itself to popular stereotypes.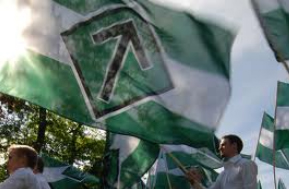 Norwegian police arrested 25 persons described as "neo-Nazis", and fully 23 of them were from Sweden. The swedish activists seek to spread the racial ideology across the border.
A demonstration in Trondheim ended with several street fights and arrests. Newspaper Aftenposten reported that it was organized by a group called Den norske motstandsbevegelsen (The Norwegian Resistance Movement) with many demonstrators representing a similar Swedish group called Svenska Motståndsrörelsen (The Swedish Resistance Movement).