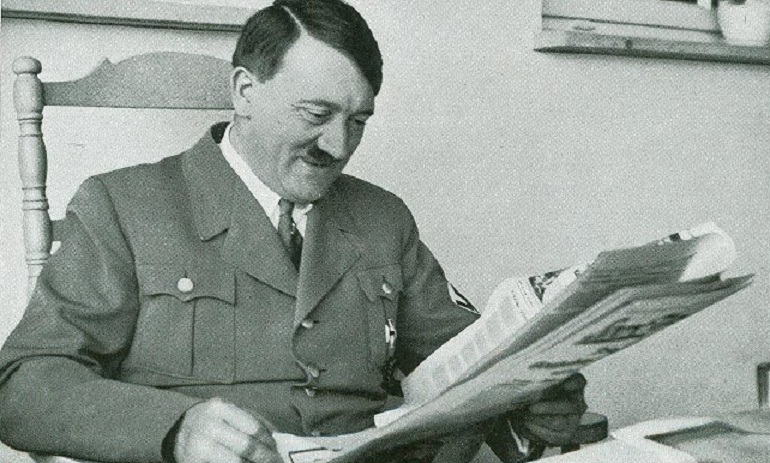 Further proof that World War II and NS artifacts are on fire in the collectors world,
a watercolor painted by Adolf Hitler before he became Germany's Führer sold at auction this week for $35,235, three times the winning bid of an original Picasso drawing. The watercolor of one of Vienna's oldest Gothic churches, Maria am Gestade, sold for nearly twice the expected bid prior to the auction at Alexander Historical Auctions in Chesapeake City, Md., an international seller of historical artifacts and autographs.
The painting was signed "A. Hitler."
It sold for more than three times the $9,500 winning bid for an original Picasso sketch, a whimsical signed drawing in red crayon on the cover of catalog of his works printed in 1931.
Alexander Historical Auctions President Bill Panagopulos told Secrets that the painting is heading to England. In his auction catalog, he described the painting: "Hitler took great liberties in this work, straightening the alleyway, narrowing the church's exterior walls, and placing buildings closer together. The human figures are virtually identical to those often seen in Hitler's paintings: elongated or amorphous figures poorly represented in every respect. Hitler painted this now de-consecrated church several times, from different perspectives."
Hitler and Third Reich artifacts have been jumping in price recently, even as the dollar gets stronger, he said. For example, the Hitler watercolor was the latest Panagopulos has sold in recent years, with each winning a higher bid that the previous.
Eager buyers are in China, Australia, New Zealand and Thailand where the new fashion rage is "Hitler chic."
Popular products:
Recent news: