White celebrities are publicly crucified for any perceived "racism." Black celebrities can openly support groups that advocate race war.
Five Percent Nation is a militant Nation of Islam Splinter Group. The term "5 Percent" refers to the black vanguard. They are supposed to be the ones preparing to fight a race war in which all white people will be exterminated from the face of the earth. Five Percent Nation has also gone by the name "Nation of Gods and Earths." They believe that the black male is the embodiment of God and the black female is the embodiment of the earth.
Supporters:
Jay-Z
Members:
Tariq Luqmaan Trotter (AKA "Black Thought," singer of the Roots, Jimmy Fallon Show)
Busta Rhymes (famous rapper)
Carmelo Anthony (basketball star, NBA)
Members of Digable Planets (grammy winning Jazz/Rap group)
Nas (rap star)
Allah Mathematics – Hip Hop Producer and member of Wu-Tang Clan
Former Members who has since converted to mainline Sunni Islam:
Wu-Tang Clan members Ghostface Killah and Raekwon (famous rappers)
Former Member who disavowed the group:
LL Cool J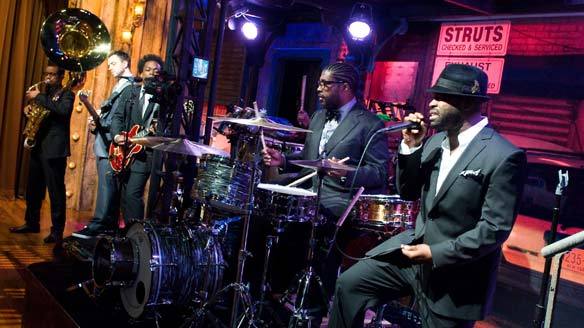 Tariq Luqmaan Trotter, singer of Roots which appears daily on the Jimmy Fallon Show, calls himself "Black Thought" and is part of the Five Percent Nation.
(CofCC.org)
Popular products:
Recent news: