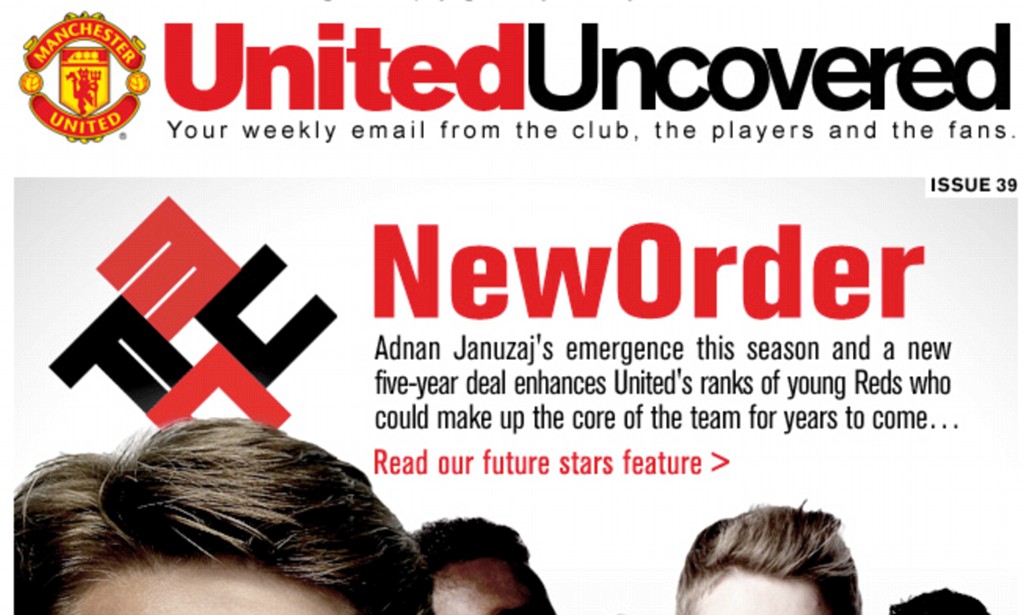 Manchester United have apologised for a "completely inappropriate" new logo following the publication of the "swastika-style" image used on a weekly email to supporters.
The United Uncovered email, which carries the image allegedly similar to the infamous "Nazi emblem", also features the heading of New Order, above images of five young players: new star Adnan Januzaj, David de Gea, Phil Jones, Danny Welbeck and Brazilian Rafael.
The term "New Order" was also linked to National Socialism following Adolf Hitler's call in 1941 for a European New Order. The image caused an "outcry" on Twitter, with Tony Peacock writing: "Reprimand the insensitive culprit. Astonished Utd would let this out."
Stephen McInerney wrote: "Unbelievable stuff from @ManUtd - a variation on the swastika with the heading 'new order'. Can't believe that was allowed."
Matt Hamnett added: "Is anybody actually & properly managing any part of the club any more?"
Rob Magee tweeted: "You think somebody would have nipped this in the bud."
And Chris Applegate said: "So there's a graphic designer job going at Man United from Monday then."
United's head of media, David Sternberg, tweeted an apology and pledged an investigation into how the publication was cleared for publication.
He wrote: "The creative is completely inappropriate; we apologise unreservedly and are taking appropriate internal action."
And, having been contacted by supporters questioning why the image had been signed off for distribution, he responded: "That's what is being investigated - obviously it shouldn't have."
Popular products:
Recent news: