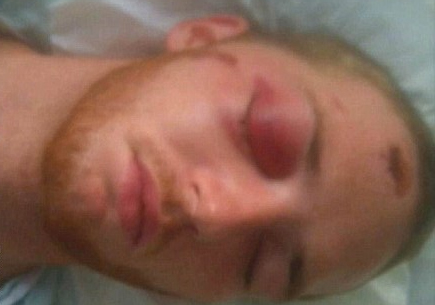 A white Georgia man was left bloodied and bruised after he was brutally attacked for dating a black girl.
The interracial couple were strolling through Ellis Square, a public space in Savannah when they say three black men began taunting them. The incident began as racial slurs, then the scoffers started blowing kisses and suddenly the trio jumped the boyfriend, Andrew Quade – who is white, beating him and leaving him barely conscious. The violent response to the "mixed-race romance" has left the couple in shock that racial instinct still exists in Africans.
'This shouldn't happen in this day in age. I know we're in the South and all that, but it's time for a change,' the girlfriend, Olufisayo Bakre, told WTOC-TV news.
'One of them was making racial comments at us and one of the them was blowing kisses. It was a very aggravating situation to be in,' Bakre explained. Quade, 23, said he tried to stay calm and just keep moving when the insults began. 'I didn't want to like freak out on them,' he told the local news station. 'I was trying to gain a little more knowledge about the situation and before we could even do that, it was just bam bam.'
He said everything happened so quickly when the racist black gang attacked him, that he doesn't even have a clear picture in his mind of the fight. The next thing he remembered was waking up in an ambulance. 'He was basically left for dead,' Bakre said.
Only the pair's racial difference is what motivated the confrontation. Bakre said that being an interracial couple in the U.S. South has come with its challenges. 'Definitely, it's that simple,' she said, with Quade adding that there just wasn't 'any logical reason they would have to just go all out like that.'
A tip by us for keeping safe: Love Your Own Race
Popular products:
Recent news: