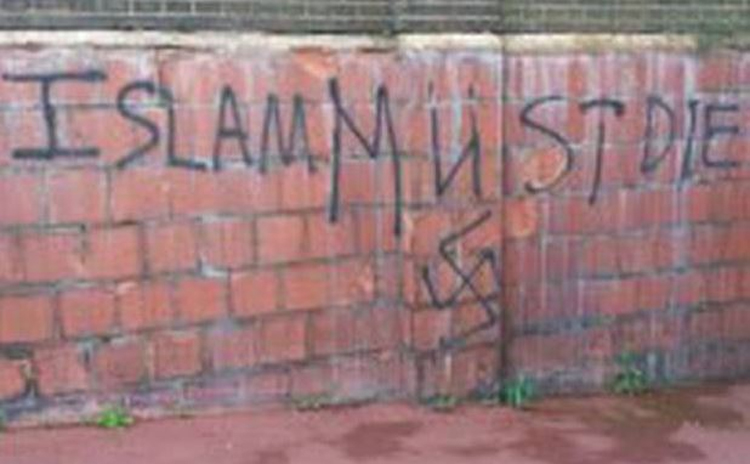 Third world people can rape thousands of White girls for over a decade and the police ignore it,
but when someone paints swastikas and anti-Moslem graffiti it becomes a high police priority. The British government and its police forces are nothing but cowards to their own people for allowing this insanity to continue. Birmingham is crawling with Moslems so this type of graffiti is only a natural reaction to what is an obvious invasion.
From London Independent:
Vandals sprayed Islamophobic and anti-Semitic graffiti including "Islam must die" and large swastikas on the walls of a university campus and mosque in Birmingham.
The offensive message were sprayed in black paint on the red brick wall of the University of Birmingham, in Edgbaston, student newspaper The Tab Birmingham reported.
Police believe the incident is linked with another incident of Islamophobic graffiti that was daubed on Jalalabad Trust Mosque –  less than a mile away from the campus in Selly Oak – as the graffiti appears to be similar, a spokeswoman for West Midlands Police confirmed today.
The graffiti, which has been removed from both sites, is thought to have been sprayed some time between Friday evening and yesterday morning. Police are now investigating the case and reviewing CCTV footage to catch the culprit.
West Midlands Police urged witnesses who saw anyone spraying the words and the symbol associated with the Nazis on the side of the Psychology building to come forward.
Popular products:
Recent news: