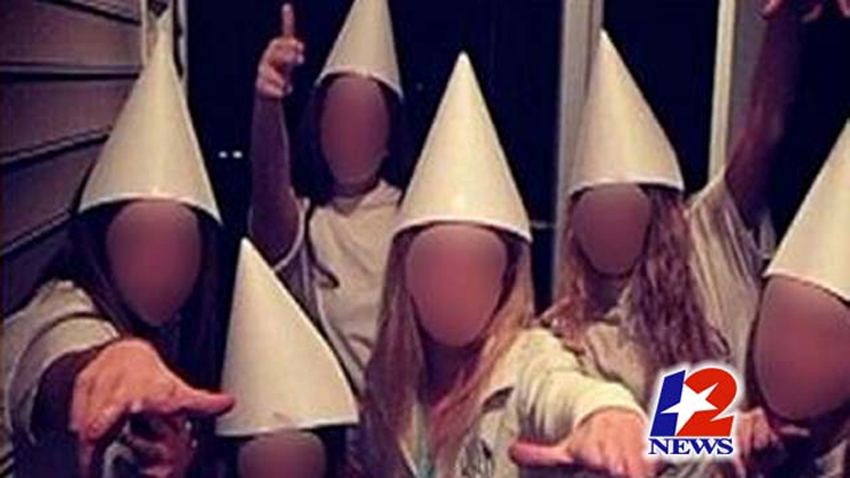 A group of girls in North Carolina have sparked outrage with a photo that shows them in white shirts and white pointed hats, resembling KKK robes.
The six unidentified girls attend Nash Central High School, The Daily Mail reported. In the photo, they can be seen pointing at the camera mimicking what appear to be gun shapes with their hands. The photo was posted to Instagram in November, just two days after a grand jury decided not to indict Ferguson police officer Darren Wilson in the shooting death of 17-year-old black thug Michael Brown.
Now, tensions have reached a boiling point at Nash County, where parents descended on a Nash Rocky Mount School System school board meeting on Monday to complain about how administrators had addressed the incident.
"The incident of the young women posing as KKK members was a threat to our children and community," parent Monica Gilmore told the board. WTVD-TV reported that the meeting Monday was so packed that some people were forced to wait in the hallway.
"It seems to be the opinion of this school district that if we are offended, to shut up and be quiet," added Rocky Mount resident Bronson Williams.
Nash County Sheriff Keith Stone attended the meeting to help keep the peace.
"In my opinion, I saw no laws that were violated," Stone said. The photo was taken off campus and after school hours, though many parents see this as irrelevant given that the state has a history of racial turmoil and several active KKK groups.
Stone insists that the photo has "been taken out of all perspective," according to WRAL-TV
"It had nothing to do with the KKK or anything of that nature," Stone said. One of the girls in the photo reportedly told another student that they had simply been making party hats.
Still, parents want the girls punished, but the school board has refused to comment on how the group was disciplined, citing the district's privacy policy.
"You've got to trust us to know that we'll work with these wonderful people on the board to do what is right for the children of this school system," said board member Wayne Doll at the meeting. "I hope you'll know that."
Parents and residents said they don't know that for sure. They feel ignored by the school board and are calling for more transparency and tolerance programs in the school system.
WRAL reported that six girls in the photo are now being escorted to class for protection due to threats made against them.
(Syracuse)
Popular products:
Recent news: