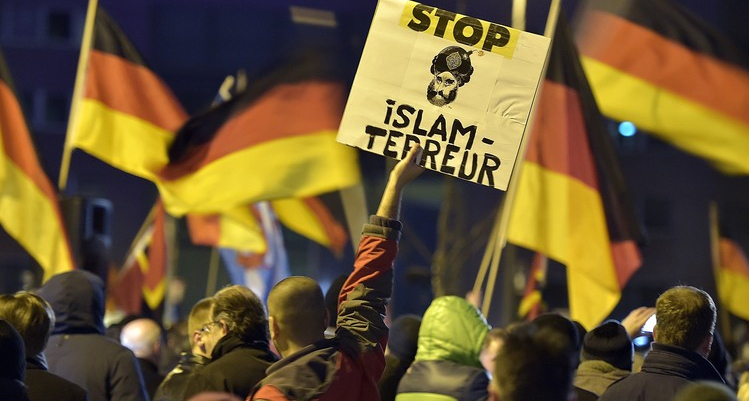 One German in eight would join an anti-Muslim, patriotic march if a rapidly-growing protest movement organized one in their home towns.
A new survey highlighted growing support in Germany, as in other European Union countries including Britain and Sweden, for parties and movements tapping into voter fears that mainstream multiculturalist politicians are too soft on mass non-white immigration.
Some members of Chancellor Angela Merkel's conservative bloc worry that they risk losing support to the euro-sceptic Alternative for Germany (AfD) party, which has shifted its focus to immigration and includes many who also back the PEGIDA protest movement -- Patriotic Europeans Against the Islamisation of the West.
PEGIDA is holding weekly rallies in the eastern city of Dresden, and attracted more than 17,000 people to a Dec. 22 rally. A few small marches have taken place in other towns, and it plans to stage further rallies in other German cities.
In her New Year address, Merkel urged Germans to turn their backs on PEGIDA's leaders, calling them racists full of hatred, and said Europe's biggest economy must welcome people fleeing conflict and war.
A poll of 1,006 people by Forsa for Germany's Stern magazine found 13 percent would attend an anti-Muslim march nearby. It also found 29 percent of people believed that Islam was having such an influence on life in Germany that the marches were justified.
While two thirds of those polled believed the idea of an 'Islamisation' of Germany was exaggerated, many Germans are concerned about the numbers of asylum seekers fleeing countries such as Syria.
Partly in response to its "Nazi past", German asylum rules are among the most liberal in the world. The number of asylum-seekers arriving in Germany surged to about 200,000 in 2014, four times the numbers in 2012. Net immigration has hit a two-decade high.
AfD leader Bernd Lucke criticized Merkel's New Year address in comments due to appear in Friday's edition of the Frankfurter Allgemeine Zeitung (FAZ) paper, accusing her of disrespecting citizens. A New Year address should unite rather than divide people, he said, accusing Merkel of branding all those who joined PEGIDA marches as anti-immigrant without listening to their views.
He said he saw no place for anti-immigrant sentiment in Germany, but that problems should be discussed properly to stop such views taking hold.
(Reuters)
Popular products:
Recent news: