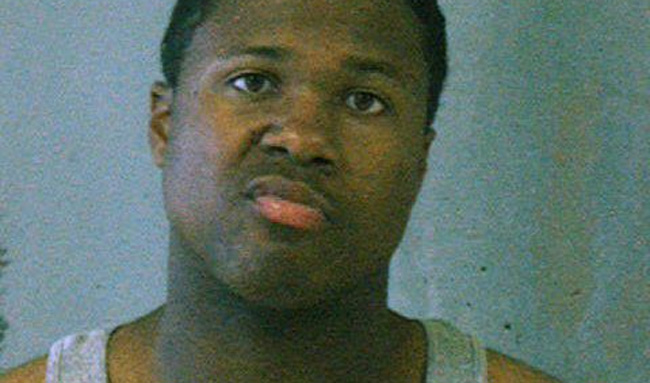 This is the man who shot dead two police officers in a sickening act of revenge for the deaths of Eric Garner and Michael Brown.
Ismaaiyl Abdullah Brinsley, 28, shot his former girlfriend in Baltimore County, Maryland, at 5.45am on Saturday morning then travelled 190 miles to Brooklyn, New York. There, he fired a fatal round of bullets at recently-married officer Wenjian Liu and father-of-one Rafael Ramos - before turning the gun on himself.
Witnesses said Brinsley walked out of a home with a gun in his hand at 2.47pm, crept up behind the officers' patrol car, and systematically shot both men in the head through the passenger window.
He then walked to the Myrtle/Willoughby G train subway station where he shot himself in the head.
It came two hours after he posted a picture of a gun on Instagram with the chilling message: 'I'm Putting Wings On Pigs Today. They Take 1 Of Ours...
'Let's Take 2 of Theirs #ShootThePolice #RIPErivGardner (sic) #RIPMikeBrown. This May Be My Final Post. I'm Putting Pigs In A Blanket.'
Tragically, Baltimore police had tried to apprehend Brinsley by alerting the NYPD after his morning shooting - but by the time a wanted flyer was issued, his attack was already under way.
Officers Mr Liu and Mr Ramos were stationed in a new precinct on Saturday morning as part of a crime prevention strategy to deal with a recent influx of reports in that area.
Both were taken to Woodhull Medical Center immediately but, within hours, succumbed to their injuries.
One of Brinsley's friends, Awk Smith, spoke to DailyMail.com in Brooklyn - feet away from the crime scene - to describe how Brinsley had been 'acting strange' in the wake of the Eric Garner grand jury trial.
Father-of-six Garner was killed by NYPD officer Daniel Pantaleo, who arrested him for selling loose cigarettes on the street, then held him in a fatal chokehold.
The killing provoked global non-white and liberal hyteria, sparked violent anti-white protests across the US, and exposed severe racial divisions in New York City.
Mr Smith, who was a member of rap outfit P.Y. Gang with Brinsley, described their recent practises: 'We all noticed he was acting strange... different, it was kind of like he wasn't there when you spoke to him. He wasn't saying very much and he wasn't performing. He had a different kind of passion.'
Another member of the group, Paul Yawney, said Brinsley took part in the recent anti-police protests.
Yawney said: 'He posted motivational stuff on Instagram and went to the protests. I think this really came as a shock to a lot of us. He shot his girlfriend this morning then went to shoot those cops. It's scary to think that's what he was thinking.'
He arrived at his 29-year-old former girlfriend's house in Baltimore County at around 5am on Saturday morning before shooting her in the abdomen.
Detectives are now investigating whether Brinsley was a member of the Black Guerrilla Family (BGF), a large-scale black racist gang in Baltimore that has been responsible for masterminding criminal plots behind bars.
Leaders of the group compiled a 'handbook' that was distributed to members in Baltimore Correctional Center, the Washington Post reported.
Investigators are also examining Brinsley's Instagram account - which has been suspended from public view - for clues of a motive.
According to NBC, Brinsley - who was armed with a semi-automatic pistol bought in Georgia in 1996 - may have been visiting his child, who is based in Brooklyn. 
Many of his posts reference Garner, who died in a police chokehold on Staten Island, sparking anti-white outrage when a grand jury later decided not to indict anybody over the death.
(Daily Mail)
Popular products:
Recent news: