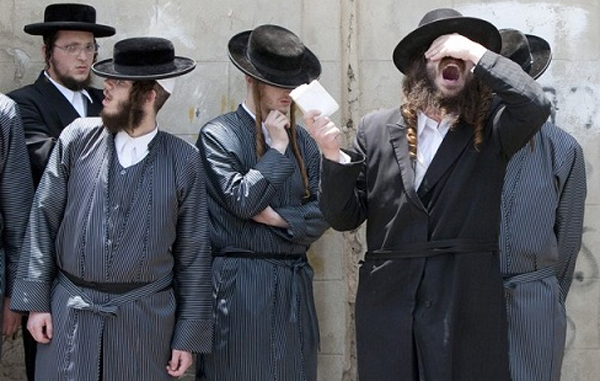 France's Jewish community is shaken following a string of violent anti-Semitic attacks over the past month that's prompting thousands of Jews to seek to move to Israel.
"Anti-Semitic incidents are an almost daily occurrence in France," National Bureau for Vigilance Against Anti-Semitism president Sammy Ghozlan told the Jewish Telegraphic Agency news service. "They are becoming more frequent and whereas the targets used to be synagogues, now there are more physical assaults on people, young religious Jews."
Ghozlan suggested attackers were trying to emulate the shooter at the Jewish Museum of Belgium who killed four people last month. The suspect, Mehdi Nemmouche, 29, is a French citizen who previously spent time in Syria training with jihadist militants.
"After every major act of violence committed recently, we've felt an increase in attacks, including the 2012 Toulouse attack," Ghozlan said referring to the killing of three children and a rabbi at a Jewish school by an Islamic extremist. "Sadly, these murders inspire the admirers of the killers to imitate their actions."
The Washington Post earlier this month reported that French Jewish leaders were feeling "the worst climate of anti-Semitism in decades" in what is the largest Jewish community in Europe.
Among the multiple attacks reported this month include a June 23 incident in which 20 assailants beat up Jewish students wearing yarmulkes at a Paris library. According to a report by Israel's Arutz Sheva, two of the Jewish students were stabbed as they fled their attackers, described as being of North African descent. Several of the attackers were arrested.
On June 19, a rally in support of the three kidnapped Israeli teenagers came under attack by protesters who threw at least one flare or Molotov cocktail at the marchers. Video from the incident showed demonstrators fleeing when a burning device was thrown at them, then turning to chase the attackers.
On June 14, two men holding an AK-47 and a handgun reportedly approached a Paris synagogue and aimed their guns at passersby and pretended they were going to open fire, but fled on scooter when they saw French police guarding the site, Arutz Sheva reported, quoting a French language news outlet.
On June 10, a Jewish teenager was hit with a stun gun by a gang in Paris. Quoting France's National Bureau for Vigilance Against Anti-Semitism, the Jewish Telegraphic Agency reported that "six black teenagers used an electric taser on a Jewish boy identified by Alliancefr.com only by his first name, Raphael," who was visibly identifiable as being of the Jewish faith because he was wearing a yarmulke.
That same week, Stars of David were spray-painted on houses belonging to Jews in Gradignan in southwestern France, JTA reported, quoting the news site alyaexpress-news.com.
Also this month, the National Bureau for Vigilance Against Anti-Semitism reported that a woman walked up to a Jewish mother in Paris's Montmartre district, shook the baby carriage she was pushing with her 6-month-old child inside and shouted, "dirty Jewess … you Jews have too many children."
On June 4, two Jewish teenagers, ages 14 and 15, told French police that they narrowly escaped attack by four men, including one wielding an ax. The teens were walking to synagogue in their Paris suburb with their grandfather for a traditional all-night scripture study session for the holiday of Shavuot when the gang began chasing them.
One of the sights that particularly rattled the Jewish community was a rally in January in which throngs chanted in unison, "Jews, out of France!"
Thousands took part in the Jan. 26 protest in Paris called "Day of Anger," where the slogan "Jew, France is not for you" was also shouted.
Agence France-Presse reported that police used tear gas to disperse the violent among protesters who threw bottles and firecrackers at police.
"We have seen this before. The socio-economic climate in France is suitable ground for the beast of anti-Semitism to arise aggressively. I am very worried," New York City-based French-Israeli artist Ron Agam told Jewish news site the Algemeiner.
"Something very worrying is happening in France. This is not a good time for Jews," Roger Cukierman, president of the Council for Jewish Institutions in France told the Washington Post.
The Post reported that 140 anti-Semitic incidents were recorded in the first three months of this year in France, a 40 percent increase from the same period last year — something not seen in any other Western European country.
Shimon Samuels, the Paris-based international director of the Simon Wiesenthal Center told the Post: "I walked into my kosher sandwich shop the other day and the owner asked me, 'Is it time to leave? Are we Nazi Germany yet?'"
"We've got the National Front in first place. We've got [anti-Semitic comedian] Dieudonne, spreading his hate. So I told him, 'Well, do you really want to be the last to go?'" Samuels added.
A French Jew who immigrated to the U.S. told TheBlaze he left the country because of "the growing anti-Semitism that we were suffering from in Paris," particularly due to attacks by radicalized French Muslims.
"The situation in France is horrible for the Jews," he said.
The head of Israel's Jewish Agency, a group that facilitates immigration to Israel, said last week that a full 1 percent of French Jews — 5,000 people — are expected to move to Israel this year. In response, the Israeli government last week approved measures to ease the absorption of French Jews in Israel, including steps to aid their integration into the workforce.
The Jerusalem Post cited as also contributing to the sense of insecurity of French Jews: the rise of the far right-wing National Front party; violence from radical Islamists, including hundreds traveling to Syria; and European efforts to ban Jewish ritual including circumcision and kosher slaughter.
"Never in the history of the state of Israel has there been a Jewish community in the free world that has sent such a large proportion of its Jews to Israel," Jewish Agency head Natan Sharansky said. "We cannot take responsibility for the fact that so many Jews and so many young French people in general are leaving France, but the fact that Israel has become the number one destination for young French Jews is a testament to our success in connecting them to the Jewish state."
Popular products:
Recent news: