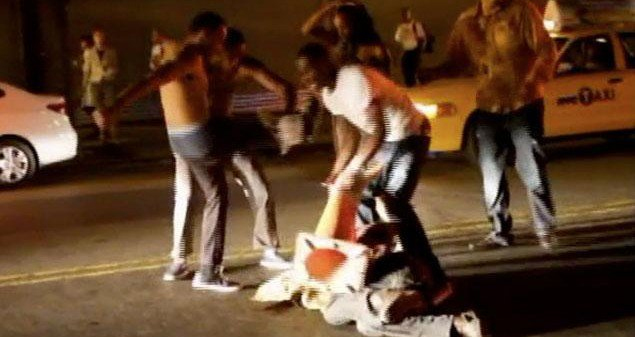 BC7 Illinois first reported the attacks against students at the University of Illinois. 
They begin their article by saying the attacks were "random"...
The ABC7 I-Team is reporting a rash of random attacks near the University of Illinois flagship campus.
Then another 4 paragraphs later they finally mention the attackers.
Police say a group of six to eight men battered innocent victims as they walked on these streets. The targets were random and they were attacked for no apparent reason, according to police, thrown to ground and kicked in the head and body.
Notice how they conveniently left out the race of the attackers and victims?
Did you also notice how they felt the need to stress how these targets were "random" for a second time? The media clowns need to do a little bit of research. The police are also tongue tied which is discouraging.
Oh wait a minute, three paragraphs later (at the bottom of the article), the "journalist" finally decides to mention the race of the attackers.
Investigators describe the attacks as black males, 25 years old, and each wearing dark clothing, possibly driving in a blue sedan or SUV.
Hey wait. They are all black males. Too bad they waited until the near end of the article (when most readers will have skipped). You see. Mentioning the race of the attackers is important. If someone I knew was going to the University of Illinois, it would be valuable information to know the physical description of anyone causing trouble… whether those folks are White, Black, Asian, or Hispanic.
No wonder they won't investigate this as a hate crime. This country has already succumbed to political correctness.
Popular products:
Recent news: