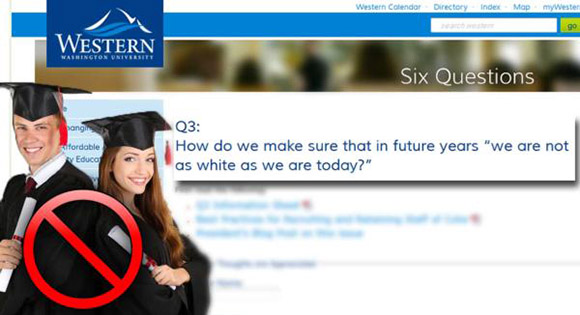 There is very real racism in America—but it is primarily directed against European Americans.
The latest example of this has come with the news that the Western Washington University (WWU) president Bruce Shepard has announced that the amount of "white people on campus [is] a failure" and has asked for "ideas on how to have fewer [whites at the university]." The astonishing remarks were reported on the Campus Reform website on April 15 this year, where it is said that a school-wide questionnaire at Western Washington University (WWU) asked the community "How do we make sure that in future years 'we are not as white as we are today?'"
The question, released through the communications and marketing department's daily newsletter Western Today, comes on the heels of admonishments given in multiple convocation addresses by WWU President Bruce Shepard for the university's "failure" to be less white, the article continued.
Quoting a 2012 speech by Shepard, the article revealed that he had said that "Every year, from this stage and at this time, you have heard me say that, if in decades ahead, we are as white as we are today, we will have failed as university."
And in a recent blog post on WWU's website, Shepard added that those who do not agree with him "have not thought through the implications of what is ahead for us or, more perniciously, assume we can continue unchanged.
"In the decades ahead, should we be as white as we are today, we will be relentlessly driven toward mediocrity; or, become a sad shadow of our current self," he wrote.
Make no mistake about it: this is pure and simple racism.
Imagine for a second, a black university announcing that it seeks to reduce the number of blacks on campus, or a Jewish-dominated university like Brandeis announcing that it seeks to reduce the number of Jews on its campus!
That just would not happen.
The reality is that this latest outburst is just anti-white racism disguised as "affirmative action."
We at Davidduke.com are opposed to any form of racism—and that includes anti-European racism such as that espoused at WWU.
What makes the example even more shocking is that the natural feeder area for the university is over 95 percent European American—and that the demographics of the campus, according to the Statistics' "College Navigator" are 40 percent non-European American already.
How has America reached the situation where such virulent anti-European-American racism is not only tolerated, but encouraged?
The answer lies, quite simply, in the decades-long propaganda war against Europeans waged by Jewish extremists in the Zion-controlled media, entertainment industry and on colleges.
From anti-European-American incitement such as the Travoyn Martin affair, to Hollywood incitement to kill Europeans, to active Jewish Supremacist discrimination against European-Americans in college campus admissions, there is a clear and unequivocal footprint of Jewish Supremacist hatred towards Europeans which underpins all of these activities.
Popular products:
Recent news: