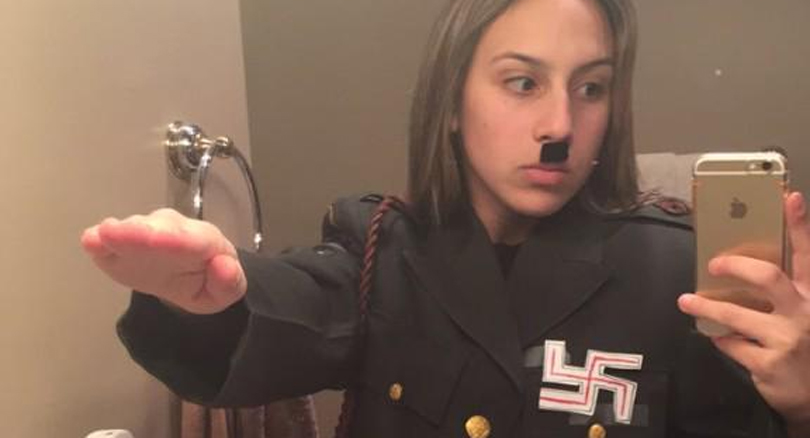 What Euros have difficulty understanding about America is that we have this thing called "freedom,"
which allows us to literally hurt people's feelings on purpose and not go to jail for it. There was a time, not too long ago, when Euros were also legally allowed to hurt feelings, but alas, that time has passed. The Jews are hard at work trying to steal these American freedoms, but as a recent case demonstrated, they are still much alive.
 A court has ruled that a teenage girl, the daughter of a state trooper, did nothing wrong when she dressed up like Hitler and posted the pictures on Twitter, then joked about bombing Jews.
Prosecutors said they will not charge a New Jersey State Police sergeant's teen daughter after she posted online pictures of herself dressed like Adolf Hitler and tweeted about bombing Jews.
While the teen's anti-Semitic posts are offensive, they do not constitute a credible threat, the Ocean County Prosecutor's Office told the Asbury Park Press.
"There was never any danger being posed to the community," spokesman Al Della Fave said. "It didn't rise to anything criminal."
In multiple posts, the girl donned a Hitler mustache and swastika. In one image, she gives the Nazi salute in what appears to be a State Police hat. The picture is captioned, "1944: crematorium crew."
On the same Twitter account, the user uploaded a picture of young Orthodox Jewish families outside an Italian ice shop with the caption, "perfect bombing time."
In another tweet, the user wrote, "I really wanna drive around Lakewood and run over every Jew with my car."
The teen, who is not being named because she is a minor, was not given any special treatment because of her father's position, Della Fave said.
The scandal appears to have originated with a filthy, rat-like Jew troublemaker named Harold Herskowitz, who makes it his Jew business to hunt down anyone practicing free speech against the Jews on Twitter and make them suffer for their crimes of thought against god's chosen invasive farm weasels.
Popular products:
Recent news: